About Avetik Isahakian
Biography

30/10/1875 Alexandropole - 17/10/1957 Yerevan, poet, writer and public figure, academician of the Academy of Sciences of the Armenian SSR (since 1943), laureate of the USSR State Award (1946).


Sahak Isahakian /1828-1890/.
Isahakian's father
Almast Ghltchian /1833-1918/.
Isahakian's mother
Isahakian's childhood passed in Ghazarapat village. He received his preliminary education in Alexandrople and at Haritch monastery.
In 1889-1892 he studied at Gevorgian seminary.
In 1893 he entered the department of literature and philosophy at Laipzig University as a free listener.

Little Avetik with his grandfather
/mother's father/ Gabriel Ghltchian
Avetik Isahakian
student at Gevorgian seminary
In 1895 he returned to motherland. Since his early youth Isahakian had been involved in national political activity: propagandistic-campaign work, purchasing of funds and weapons, organizing volunteers detachments.
In 1896 he was arrested and kept for a year in Yerevan provincial prison.

Shoushanik Matakian.
The poet's great love and the heroine
of his poetry /1877-1944/
In 1897 the first collection of Isahakian's verses "Songs and Wounds" was published / "My fairy", "I was a new-blown flower", "Would you like me to be dew of sorrow?" "Shushan maiden, I am your slave"). This book marked the beginning of his literary work and the belief towards it. The themes of love and lust, love towards motherland and mother's love are some of the main motifs of Isahakian's work. The beauty of the native nature, legends and myths, dream and love found their unique expression in the poem "Songs to Alagyaz" (1895-1917). In 1898 Isahakian was again arrested and exiled to Odessa.

A. Isahakian with his university friends.
Leipzig, 1894
Av. Isahakian with his mother, sister,
brother and other relatives Ghazarapat,
1905 /photo by Hovh. Toumanian/





After the exile, in 1899, Isahakian became a member of Armenian Revolutionary Federation (ARF) and a member of "Qari" party in Alexandrople.
The verses devoted to the national- liberation struggle, which, since 1899 had been published in the magazine "The Droshak", Isahakian signed by the pseudonym of "Armenian-Gusan". In 1908, together with 160 Armenian progressive intellectuals (among them Hovhannes Toumanian as well), Isahakian was imprisoned for "ARF case" and spending half a year in "Metekhi" prison, he was released after paying a big mortgage.


In  1909-1910 Isahakian wrote his famous poem  "Abu-Lala Mahari", the main hero of which is the bearer of the tragedy of an individual, human pain and suffering.

Avetik Isahakian.
Zurich, 1900
In order to avoid political persecution, in 1911, Isahakian left his motherland and in case he returned, he would be arrested again. The unfinished novel "Master Karo" ("Usta Karo") has played a great role in his creative life (the first version written in 1910-1912). This novel is one of the most interesting and complicated phenomena among the new period of the Armenian prose. He had worked on this novel during the whole period of his creative life and in the notes, written in the duration of long years, the fears of his anxious heart and the meditations about the fate of his people are concentrated.

| | |
| --- | --- |
| | |
| | Mrs. Sofi and little Vigen, Tiflis, 1911 |










The tragedy of the Armenian Great Genocide realized by Turkey in 1915, Isahakian would later depict in his "White Book", a significant part of which found its place in the records of "Diary" ("Hishatakaran"). The poems: "The snow has come and covered now", "To Armenia", "Spring came again" are the results of the heavy feelings of the Genocide.
Avetik, Sofya and Vigen Isahakians.
Venice, 1925
The conception of Isahakian's world perception: his thoughts about his native land, human life, love, time and distance, infinite of the universe found their reflection in his works like: "My heart is there", 1906, "Of boundless revenge and hatred", 1908, "Ananda and death", 1908, "Eternal love", 1914, "Lilit", 1921, "Mher of Sassoon", 1922, "The last spring of Saadi", 1923, "I saw a girl with black eyebrows", 1925, "In Ravenna", 1926, "The Pipe of patience", 1928...

Av. Isahakian in his house garden.
Yerevan, 1955


For long years the poet had roamed in alien countries. He had lived in Germany, Turkey, Austria, Switzerland, Italy, France and Greece. In abroad he had been a member of "German-Armenian company" and vice president of Armenian Relief Committee. In 1936 Isahakian permanently returned to Armenia.

He died on 17th October, 1957 and was buried in the Pantheon of Komitas Park in Yerevan.
There are memorial museums in Yerevan and Gyumri. Schools, streets and libraries named after Isahakian are in various parts of Armenia. Well known are  the monuments to Isahakian in Yerevan (sculptor Sargis Baghdasarian, architect Liparit Sadoyan, 1965) and in Gyumri (the statue won a state prize of the USSR in 1977, sculptor Nikoghayos Nikoghosian, architect Jim Torosian).
The works of the great poet, particularly "Abu Lala Mahari" had been translated into many languages. Isahakian's work has its significant place in the treasury of World literature.
The biography of Avetik Isahakian in Armenian Encyclopedia.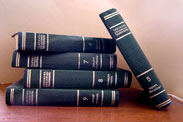 Armenian Encyclopedia, Yerevan 1978, vol. 4, p. 391-392